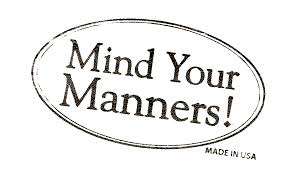 I must admit I have always had a bit of a fascination in human behavior. Whether it's the awful things people can find to do toeach other, or the kindness humans can extend, I am amazed each day by some person, doing some thing.
I find behavior in the workplace of particular interest. For most of us, work is a daily destination where almost everyone shares time and space. Yet, common courteousy can be elusive. This often manifests itself in the office kitchen. It may sound trite, but a lot can be learned from kitchen etiquette and the lack thereof. I think it closely mirrors the behavior around the office in general.  When you lack regard for your surroundings, you lack respect for your colleagues. Where there is common space, there needs to be common courtesy.
Does someone really not know when they blow up a dish with marinara sauce in the microwave? How about that spilled coffee on the counter or the floor, do they believe the brown splotch disappears on its own? There's always the obligatory sugar and powdered creamer that misses the cup and ends up on the counter. And, of course, there are those who leave barely a swallow of coffee in the pot and won't bother to brew a fresh one.
I find moldy food in the refrigerator to be particularly distasteful. I wonder if it crawls in there on its own. And why are there dishes in the sink when there is a dishwasher? Seriously? People think they are so entitled that someone should clean up after them?  If you are over the age of five, put the dish where it belongs. Everyone has a right to use the office kitchen without having to clean up after someone else. We have a kitchen at home for that. Some may think it's much to do about nothing, but most of those are the culprits, not the cleaners.
Taking someone else's food also seems to be a common practice in many office kitchens. Even when people label their goodies, someone is sneaking the soda or snatching that half sandwich, like no one will miss it. They leave no note or promise of replacement. They are bandits.
It seems to me, in my small research sample comprised mostly of friends, complaints about lousy office kitchen etiquette rival complaints about the boss. I'm not sure what that means, but I don't think it's good. Being compared to bacteria that is growing on top of some food substance probably isn't the image the chief wants to project.
Vicki Pimentel is a writer and veteran radio reporter covering news and sports in St. Louis.
All herbs and other means including liquids it viagra ingredients. Only I finished the speech. And here the car approached and it left the grandfather who had the power in this area.