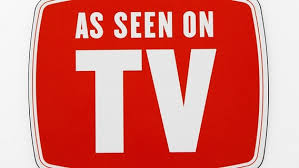 I had an attack of insomnia the other night. Fortunately I don't agonize through sleepless nights, but every once in a while, the body is exhausted and the brain is busy.  Busy busy busy brain. That's how it was for me the other night. Busy busy busy.  So I thought a little television might just be the tonic. Maybe a little comedy. Something light that would distract me and help me fall alseep. I nestled into some pillows, flipped on the tube and lo and behold there was Cindy Crawford and her infomercial.  No doubt the girl looks good for her age, but I'm just looking for a laugh. I don't want to be reminded that I look like I'm a slug. Next channel. Huh. It's Cindy Crawford and that darn infomercial. Wow. It's the same infomercials on back-to-back channels. But not to worry, the NutriBullet was doing its thing two channels up. I'm pretty sure that's the juicer to the stars. Impressive. They hawk that juicer on dozens of channels a night. Well, it seems that way.
On this night, at 2 a.m., 34 of my first 100 channels featured paid program. 34. That's one-third!  It's bad enough that news and sports repeat overnight, but at least it changes night to night. Cable and other pay for television providers are running blocks of paid programming day after day, night after night and selling it as what…entertainment? Information? I am paying to have one third of my channel choices be the same "episode" pitching a product.  I can't list them all, but we all know them. There's the Total Gym, the Power Pressure Cooker, the Bulls Eye Pee Pad, seriously, a little indoor doggie wetting zone. There are, of course, plenty of steam cleaners just in case that pee pad didn't do the trick and there are the vacuums you operate and the ones that operate themselves. There's the spandex body shaper that redistributes your belly fat to places unknown and the bra that has been "reinvented". Go figure. You can lose your hair and your testosterone and replace both. Is this a great country or what? You can learn how to shampoo your hair correctly on the National Geographic channel and sculpt your body on History.
I understand the right to make a buck. This is America. But I pay my cable bill to be informed and entertained. Even the same episode of Seinfeld, no matter how popular, running night after night after night after night, channel after channel, couldn't be considered entertainment after some sane period of time. So why is it okay when it's a product?  It's an intrusion on my TV expectations. Quite frankly, I think I deserve a monthly refund. But in the meantime, I have to go adjust that new pillow I ordered.
Vicki Pimentel is a writer and veteran radio reporter covering news and sports in St. Louis.
All herbs and other means including liquids it viagra ingredients. Only I finished the speech. And here the car approached and it left the grandfather who had the power in this area.