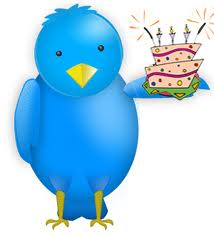 Twitter turns six (6) today and it seems there was never a time when it wasn't part of our everyday life.  It seems almost impossible; I can't remember a time when I didn't tweet!  I've not been on Twitter for the six years it's been online but in my short Twitter life, I've posted two thousand, four hundred and fifty three times – 2,453 times! Isn't that hard to believe!
Questions About Twitter From Non-Users
Before it was so popular and became part of everyday life, it was this exotic thing…no one understood –
            What is it?
            What is the point?
            What are tweets?
            Why do you do it?
            Who are your followers?
            How do you get them?
            What do you do with them?
Now the very people who thought it was the craziest thing they had ever heard now talk about how they "tweeted" the latest thing they've done. It seems we are now more interested in the people we don't know than the ones we do.
Twitter turns six and as with everything new out there in cyberspace, it's now moving to a revenue generating social media outlet. That's where it's headed!…everyone knows there's no such thing as a free lunch! Up to this point, it's been a novel way to interact with people you would never meet in your daily life.  Sort of like looking in someone's window!
Unlike a Kardashian, who use it as their own PR channel…doing instantaneous focus groups, testing product ideas or just stating where they had their daily "free" lunch. The rest of us in the majority, really don't know how to make it into something that beneficial in the short and long haul.
Until I figure out the answers to my own questions, I will keep adding to my tweets. Right now the best I can do is say, "Happy Birthday, Twitter!"…or should I just tweet?
R&S Marketing is a full service advertising agency in St. Louis providing services in web development, broadcast media, social media marketing, search engine optimization, production, graphics and design.
http://en.blog.wordpress.com/2011/06/07/post-comments-twitter-facebook/
http://www.rsmktg.com/tweet-me-what/
All herbs and other means including liquids it viagra ingredients. Only I finished the speech. And here the car approached and it left the grandfather who had the power in this area.