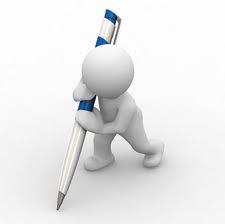 Basics of writing for the web…seems simple…and it is! There are a few things to keep in mind when starting your article and deciding what you need to cover in the content.
The Basics of the Basics of Writing for the Web
1. Answer the question.

When you write make sure you answer the question. By that I mean, why is the person coming to your site? What would they be  looking to find? Is the information clear and easily understood? If you answer these questions, your content is probably spot on.

2.  Write for the reader first and search engine optimization second.

Get your message across first. Then you can go back and use keywords, keyword phrases and links. All content is written for rank but if the pages are only SEO friendly and they don't find what they are looking for in a few seconds, they will be gone.

3.  Keep it short.

The web has trained us all to have the attention span of a three year old. The point being, do not blabber on and on…get to the point and quickly. Leave white space in the article. makes it easier to read. Short paragraphs and brief sentences. Keep the article, content, blog, etc., between 300-600 words. Usually around 350, that seems about perfect for the search engines. Short and sweet…See what I mean?

4. Write in simple terms.

People are looking for information fast and they don't want "big words" to confuse the issue. Keep to the point and make it easy to read.

5.  Use sub-titles and bullet points.

This is true of any kind of writing.  It breaks up the content and makes it easier to read and scan for the important info. Sub-titles break up long-winded content and bullet points make lists of items much easier to absorb. Use keywords in your sub-titles for web rank.
That's pretty much the basics of writing for the web.  There are great articles on the web for more insight, like this one; http://www.onextrapixel.com/2010/07/07/writing-for-the-web-improve-your-skills-in-9-easy-steps/
Alice J. Ross is President of R&S Marketing, a full service advertising agency in St. Louis providing services in web development, broadcast media, social media marketing, search engine optimization, production, graphics and design.
All herbs and other means including liquids it viagra ingredients. Only I finished the speech. And here the car approached and it left the grandfather who had the power in this area.