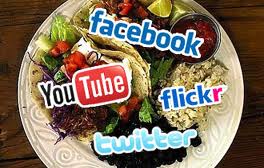 Social marketing and restaurant marketing have a lot in common. When your search engine optimization is working, your blog is going strong and you're moving up to page one or two on Google . . . but the phone still isn't ringing…is your mix right?
Isn't the objective to make positive contacts through social marketing, and, voila, hordes of new potential customers will flock to your web site.  Yet, while you are gaining new "followers" everyday, they don't translate into more sales leads. So, what's the problem?
The Answer to the Problem
Perhaps, the problem is a lot like restaurant advertising that pulls traffic to a place that serves bad food.  In that unhappy situation, the more people the ads draw to restaurant, the sooner it likely will go out of business – unless it improves its menu offerings. Sure, great ads build positive awareness of the restaurant. They trigger action, attracting diners who come anticipating a great meal, as promised. But, when that meal fails to deliver, the negative effect can ultimately destroy the restaurant.
Or, to put it another way, when people meet you on Facebook or Linkedin or somewhere in the blogosphere, and are inspired to visit your web site . . .when visitors get there . . . and there is no "there" . . . you wind up with a net negative for your efforts.
Some marketers create their web sites first and do nothing with SEO or social marketing efforts to draw visitors to the site. So, no one comes. Nothing happens. You get no ROI for your investment.
Others go immediately into low cost efforts of social marketing with a minimum presence on their web sites, delaying the costs of developing a site with content that delivers the promise that enticed their visitors.  Plus, easy navigation that leads the visitor to take actions you desire. This approach, by itself, doesn't work either.
If your objective is to get results that build your business . . . then the first thing you need is a plan that gives your efforts a chance to meet your objectives.
One size fits all is not the answer. Finding a source who has the know how to understand your particular company's needs is a good starting point.
Bill Shoss is Senior Vice President at R&S Marketing, a full service advertising agency in St. Louis providing web development, social marketing, and search engine optimization. On the web at www.rsmktg.com or by phone at 314.576.4944.
All herbs and other means including liquids it viagra ingredients. Only I finished the speech. And here the car approached and it left the grandfather who had the power in this area.