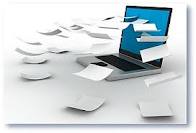 Search Engine Optimization or content, content, content! The most important thing you can do for your website and your social media accounts is to provide valuable and informative content…regularly.  It will move your site and it will move the sites of your clients.  Google changes their algorithms constantly but the one thing they never seem to veer from is content…and that means original content.
What You Should Do When Writing Content
When you are writing, you should ask yourself – why is the information important? Is it in line with my goals? Is it line with my client's goals? Is the content relevant? Can I predict the results?  If you can answer these questions with a resounding "yes", you are on the right track. Sometimes the articles might be news items that are pertinent to the client or to you…it must provide information that is of interest and readable to your audience to have any impact.
It is important to convey the information in a clear way without all the big words, buzz words and techno-speak. Make it easy for anyone to glean the material for facts that address their issues or questions.
After you add the information to your/client's website, check the impact through analytic tools available.  Probably the most common, or certainly well-known, is Google Analytics, however there are many other programs and apps available that will help you establish relevant keywords and phrases for your content.
Providing current content…ongoing…is the key to standing out among the herd who are trying everything possible to move their rank. The basics are simple – new information, ongoing, pertinent , relatable, and easy to read and understand.
For more articles on search engine optimization – SEO – check our blogs at www.rsmktg.com or send us an email at info@rsmktg.com. There are many great sites where you can find additional information on this topic.
For great information and articles on optimizing content, check out www.seomoz.com
Keywords: SEO, Search Engine Optimization, Content, Rank, Website Optimization, Social Media
All herbs and other means including liquids it viagra ingredients. Only I finished the speech. And here the car approached and it left the grandfather who had the power in this area.