By Alice J. Ross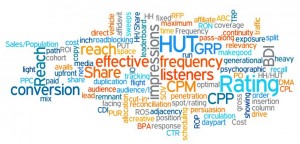 Marketing and advertising is just one aspect of achieving a client's goals. Let's start with broadcast media. It's not as simple as pulling a ranker against the demo…even though many do it this way. Media planning and buying is a lot more complicated than that. Each market has nuances that make it almost impossible to decipher from just a ranker.  Not to mention that each household/person surveyed and how they respond relates to all persons in that market as a percentage or share of the same users.
Simply put…one person/household can represent tens of thousands of persons/households. It's like living in an apartment complex and saying the guy in building one, in apartment one watches/listens to this station…then everyone in the entire complex watches/listens to the same station. We all know that's not true but it is nearly impossible to get any better indicator.  That's one of the reasons understanding marketing and the market is crucial to the success of any broadcast campaign.
That's just to get started…then you have to evaluate-
Number of stations
Market Size
Affiliations of each station (that reflects programming in television and format in radio)
Market Profile of Viewers/Listeners
Employment Profiles (shows if it's heavy manufacturing, corporate, collegiate, etc.)
Market Layout (how is the Metro defined…does it overlap? include multiple counties? cities? big city-small county, small city-big county, etc.)
Center of Business (relates to commutes-especially important in radio)
Educational Profiles (determines creative strategies)
Cable Saturation (relates to television placement)
If this is already making you dizzy, there's more –
Formats
Demographics Rating Points Cume vs Quarter Hours (AQH)
Household (HH) vs People Viewing (PVT)
Audience Turnover Ratios
Time Spent Listening
Exclusive Cumes
Cost Per Points (CPP)
Reach and Frequency (reach x frequency = gross rating points)
Shares
Duplication
Commercial Breaks/Limited Commercial Breaks
News vs Music Sponsorships
And more!
And then comes the big question – BUDGET? How do you decide what will work for you…can you spend enough to make it work? Let me say this – "Everything Works" – it's just a matter of degrees. You can put a flyer on telephone poles giving away 12 cars and in little time all will be gone. You can see, it's not that simple and with all the changes in options, channels, networks, choices, it's getting even more difficult…
To learn more, visit our website at http://rsmktg.com. Check out our tweets at http://www.twitter.com/rsmktg and like us on Facebook at http://www.facebook.com/RSMKTG.
 http://goarticles.com/article/Think-Buying-Media-Is-Simple-Not-If-You-Do-It-Right/5769394/
All herbs and other means including liquids it viagra ingredients. Only I finished the speech. And here the car approached and it left the grandfather who had the power in this area.