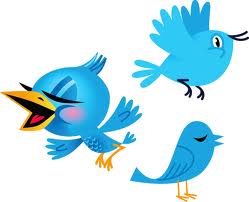 The newest catch phrase for those who use Twitter and are trying to build their base of followers…it's all about the "tweet me".  Then it's crossing your fingers and hoping they will do just as you ask.  I don't know if most understand the "tweet me" and the implications of such a statement.  I'm not always sure I do but I really feel that Twitter was made for me…or at least I believe that someone had someone like me in mind when they came up with the concept.  Only 140 characters to convey a thought, idea, pitch, some info, sale…I love it!  I have the attention span of a two year old and I absolutely love Twitter.
Twitter is like a big game…how cleverly can I get my point across as kind of a "silent salesperson"?  I mean, it's not like they really know me…a few do…but that's it.  Twitter's like a mini billboard telling everyone following what I want them to know about me, and hopefully enticing others to follow because they want to see more.  Even though it could be tens of thousands reading what you tweet, it's still an intimate form of communication.  The conversation can be directional – targeted for a specific message to a specific user or to the general Twitter community, but it's always as if you are talking to one person with the single goal of having them like you…and wanting to know more about you.
As a business, the goal is to become a resource with a personality – but not too much personality – cause they will quit following in a minute if you're considered weird or out of the norm…in the creepy way.  Out of the norm can be a boon to followers if you're entertaining and informative.  It's a fine balance.  Sometimes I look at Twitter as my own business diary…what do I want to know more about…an interesting quote that I want to remember…a funny thought…a unique observation…maybe something going on in the world that I would like to file away for future reference…noteworthy.   Just don't lose sight of the fact that just like you're watching them, they're watching you.  Hopefully, you're the right balance of resource and personality and everyone will continue to wait for what you have to say next.  At least that's the goal!  So, the next time you might want to hear what I have to say or think…"tweet me".
Check out my tweets at Twitter.com/RSMKTG or on www.rsmktg.com live Twitter feed. 
For interesting articles on the art of the tweet, check out www.socialmediatoday.com or www.hubspot.com.
R&S Marketing is a full service advertising agency in St. Louis providing services in promotion, web development, broadcast media, social media marketing, search engine optimization, production, graphics and design.
All herbs and other means including liquids it viagra ingredients. Only I finished the speech. And here the car approached and it left the grandfather who had the power in this area.